Noarchive meaning in English

Noarchive
What is Noarchive?
The Noarchive value when used in a Robots meta tag or an X-Robots header, instructs Google and other search engines not to store a cached archive copy of a resource.
This means that when users use the cache: command or click to view the cached page from Google, they will not be able to do so - receiving a 404 error page instead.
So to put it very simply: using noarchive should remove the web-page from the Google cache.
Examples
Below is an example of a noarchive value being applied to all bots via a robots meta tag:
<

meta

 

name

=

"robots"

 

content

=

"noarchive"

 />

Code language:

 

HTML, XML

 

(

xml

)
Below is the same instruction, but applied specifically to Google:
<

meta

 

name

=

"googlebot"

 

content

=

"noarchive"

 />

Code language:

 

HTML, XML

 

(

xml

)
Does using noarchive affect SEO?
According to Google, no, in theory using noarchive does not affect the SEO of a web-page.
It will affect how the page is shown in search results - in the sense that a cached version of the site is not available to searchers - but it should not affect the position of the page in Google's rankings.
The following tweeted reply from John Mu confirms this. In response to the question:
Hi John, does using the noarchive tag on pages negatively affect Google rankings for those pages?
John replies:
No.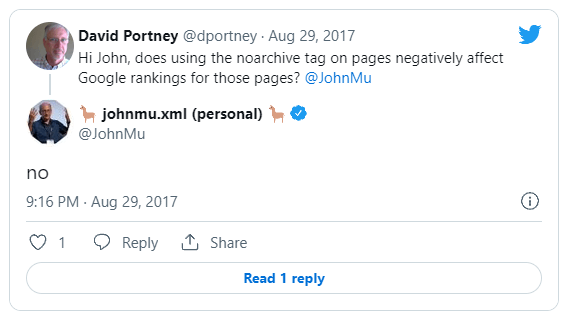 Related
Citation URL
https://www.searchcandy.uk/seo/seo-glossary/noarchive/