Status
451 Unavailable For Legal Reasons
What is a 451 Unavailable For Legal Reasons HTTP response?
Usage of the 451 HTTP status response code is suitable for situations where a resource must be blocked for legal reasons, such as where a court judgement or law requires that content should be made unavailable.
451 has been used widely by US news/media sites following the introduction of EU 'GDPR' privacy regulations, blocking content for EU visitors.
The 451 HTTP status was actually only introduced quite recently in 2016 – in order to provide more information than previous alternatives such as 403 forbidden.
What type of HTTP status is a 451?
A 451 is in the 4xx class of status codes which are client error based.
Example 451 response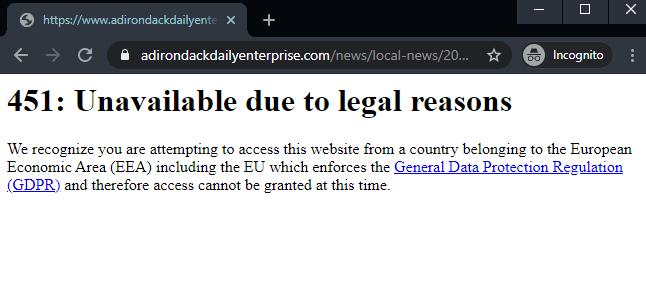 When should a 451 response be used?
A 451 response is suitable for any situation whereby a court or other legal entity has mandated that a web resource must be removed or blocked.
Examples might include: criminal court cases, civil court cases, tribunals, statutes/laws, treaties, or simply a request from a company legal department.
A 451 response does not necessarily have to be served globally. For example many US news sites show a 451 status and message to European users to get around GDPR privacy requirements.
Does a 451 HTTP status affect SEO?
If you want to block all users for legal reasons – then a 451 code is perfect – and will also likely remove your site from search engines.
If Google are unable to access a resource it is likely that they will not index it. If all users/bots that attempt to access a resource are served with a 451 response and no content, it will not be indexed.
However from testing conducted at the time of writing: if US users and Googlebot are able to access the content then this content will be indexable/potentially available in Google search.
Content last checked for accuracy and updated: 12th July 2020, by Colin McDermott