Breadcrumbs meaning in English

Breadcrumbs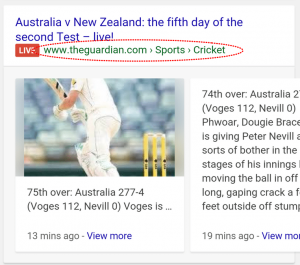 Breadcrumbs are primarily a navigational feature that allows users to see which section of a website they are in.
Breadcrumbs can also be seen in Google search when Google understands the structure of your site.
The image you can see on this page is taken from the Google breadcrumbs example page, and shows you one way that breadcrumbs can look like when implemented in Google Search.
Yes, because Google can make use of breadcrumb trail information to understand the structure of a website and its component posts/pages.
Breadcrumbs should be marked up using the recommended structured data format to provide Google with the required information.
Just having working breadcrumbs on your site is a great start (this isn't always easy to achieve), but you do ideally need to get structured data working properly to maximise the chance of Google understanding your breadcrumbs.
Resources
Related
Citation URL
https://www.searchcandy.uk/seo/seo-glossary/breadcrumbs/