Check out our review based on our direct experience testing out the new service on the Search Candy website.
CloudFlare APO Review
TL:DR: I would say the APO service should still be in beta.
First, what is the CloudFlare WordPress APO?
With Automatic Platform Optimization (APO) Cloudflare will serve your entire site from our edge network, ensuring that customers see improved performance when visiting your site. Typically Cloudflare only caches static content, but with APO we can also cache dynamic content like HTML so the entire site is served from cache. This removes round trips from the origin drastically improving TTFB and other site performance metrics.

CloudFlare support docs
I am a big CloudFlare fan - I think the service has a huge amount of potential - but its important to understand what CF is actually capable of and ignore any of the "black magic" vibes that people assign to it.
CloudFlare and their products either work - and ideally speed up/secure your site - or they don't, and they are a waste of money.
Supported Plugins
Here is the official list of WordPress plugins that are confirmed by CF to work with the new WordPress APO (source) - updated September 2021.
WP Rocket
BigCommerce
Easy Digital Downloads
WooCommerce
YITH WooCommerce Wishlist
WP EasyCart
Ecwid Ecommerce Shopping Cart
WP ECommerce
Bookly
WPTouch
Mobile Detect
WordPress Mobile Pack
WP-Mobilizer
WP Mobile Edition
Any Mobile Theme Switcher
Easy Social Share Buttons
Jetpack (Mobile Theme)
wiziApp
WPML
Quite a small list. If your site uses any WordPress plugin that is not on that list, then its compatibility with the APO is not supported by CloudFlare or guaranteed to work.
Specifically you may note that there are no caching/site optimisation plugins on the list. Update: CloudFlare have now added WP Rocket to the list of compatible plugins.
The lack of support for optimisation plugins is at the root of all the issues I had with the service.
It is simply not designed for users who have independently made any web perf optimisations to their site, such as installing a caching plugin, removing resources via AutoOptimize, or similar.
On installing the CloudFlare plugin (required to use the service), my site's footprint increased in size from a manageable number of well optimised resources, to over 70+ unoptimised files.
The CloudFlare plugin essentially de-optimises your sites resources, then tries to cache them at the edge.
Interactions with support etc have not been great so far.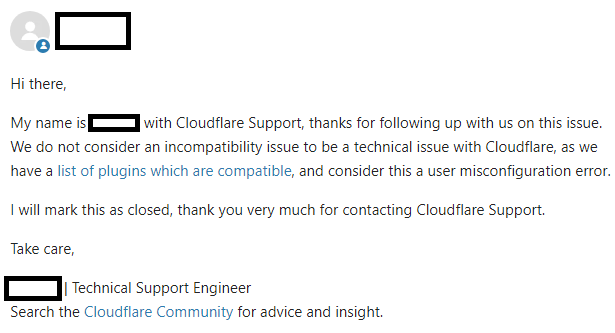 Which Caching & Performance Optimisation Plugins work with the CloudFlare APO?
So far we have tested the following plugins with the CloudFlare APO:
LiteSpeed Cache for WordPress
Compatibility with CloudFlare APO: 0/10.
Instantly breaks the site. We were not able to find a combination of plugin settings or a setup that did not result in a broken site.
Has a direct integration via API allowing you to clear the CF cache directly.
FlyingPress
Compatibility with CloudFlare APO: 5/10.
Doesn't result in a broken site, but does not have any integration with CloudFlare. Recommended setting (as per FlyingPress docs) is to turn off page caching in FlyingPress whilst using the CF APO.
HummingBird
Compatibility with CloudFlare APO: 8/10.
Works well with the CloudFlare APO and has an API integration allowing you to clear the CF cache directly.
Conclusion
My recommendation to anyone who was interested in testing it out would be: by all means test it out, but don't expect it to improve your site speed if you have already made a reasonable attempt at this already.
Perhaps in 6-12 months CF will have improved the service to the point where it works with other optimisation plugins.
Your mileage may vary. Perhaps there is a caching plugin or server/site settings combo that DOES play friendly. But I haven't found it.
There may be people reading this who have no interest in web perf but who do like the sound of a paid service aimed at WordPress that tries to do some of the work for you.
With the added pressure of Google adding Core Web Vitals performance in search rankings - due to hit in May 2021, potentially millions of businesses will be looking to solutions like this.
Personally for me the test is over for now, I have moved back to using our original CDN in the meantime, and site speed is back to normal.
March 2022 Update
Another test of CloudFlare's APO, and results have not improved. We attempted to use the APO again - and tested the results. Every aspect of the site performance worsened: speed, total resource size, request numbers, and in the lab Core Web Vitals scores dropped.