Google posted on Tuesday the date they expect to push live the previously announced page experience search ranking update: May 2021.
Page Experience
Back in May of this year Google announced that they would be integrating various page experience related ranking signals into their algorithms.
Page experience signals relate to how users perceive the experience of visiting and using a web-page.
Primary page experience signals include factors such as: how long a page takes to load, how long it takes to become interactive, and the stability of different elements on a web-page as it loads.
Originally announced by the Google Chrome team: 'Web Vitals', aka 'Core Web Vitals' are a new set of page experience metrics developed by Google - designed to allow for a unified and improved collaboration on improving user experience across the web.
New Integrations
As well as the metrics themselves, Google revealed integrations across their suite of testing and reporting tools, from Lighthouse / Web.Dev, to a new Core Web Vitals report in Google Search Console itself.
This new report in Search Console allows webmasters to see the collated page experience results for users in bulk across different URLs on a website assuming enough data has been collected - something which can be a problem for smaller sites.
Google stated at the time that they ultimately expected the new metrics to be used in the forthcoming search ranking updates.
Date Announced
Well the specific time for that integration has now been announced, and the date will be essentially one year after the original announcement: May 2021.
As stated in Tuesday's blogpost on the Webmaster Central blog, Google will be combining Core Web Vitals with existing ranking signals such as mobile-friendliness, HTTPS usage, and intrusive mobile interstitials, as shown in the following graphic.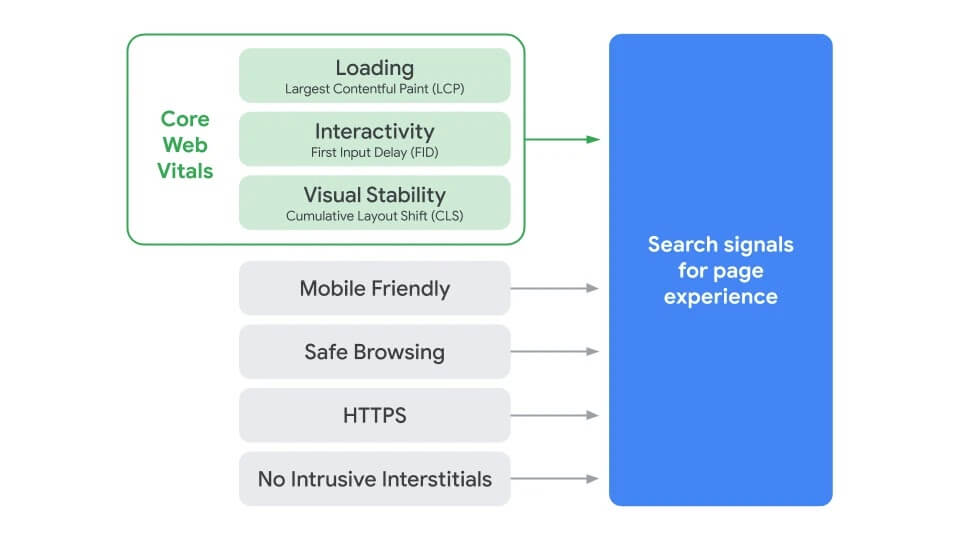 So what does this mean in simple terms? It means that Google's new page experience metrics will have an impact on the SEO of websites.
Realistically the new signals will probably start off quite weak as ranking factors, and may then over time get tightened up as Google gain confidence in their ability to provide reliable results for users.
In other Core Web Vitals news, today Chris Johnson released a Core SERP Vitals Chrome extension that enables users to see Core Web Vitals information pulled from the Chrome User Experience Report, direct in Google search results.
This could be useful if you want to see a really quick score to compare sites, without having to run a report manually.