A full round-up of all the slides from September 2015's BrightonSEO conference.
As ever, a fantastic BrightonSEO with loads of great talks.
Greg Gifford's deck seemed to get the most comments on Twitter, partially due its size at a whopperific 128 slides. That's just showing off Greg.
If we are missing a deck or you have a comment, tweet us @SearchCandy or feel free to get in touch.
Updated: 39 slides now added.
---
Kelvin Newman - How to have less rubbish ideas
---
Samantha Noble - How to Compete on Google Shopping
---
Paddy Moogan - Reverse Engineering Successful Content
---
Gianluca Fiorelli - An Actionable Guide to Keywords and Topical Research
---
Jon Henshaw - On-Page SEO for Mobile
---
Greg Gifford - Local SEO - A Seriously Awesome Blueprint
---
Aleyda Solis - The Technical Marketer Toolbox
---
Mindy Gofton - Finding the Words: Getting Customer Buy-in for Your SEO Strategies
---
Mark Thomas - Google are pushing HTTPS hard. Why? And, when should you act?
---
Christoph C. Cemper - How to Measure the Real Success of Content Marketing
---
Paul Madden - A Systematic Approach to Managing Relationship & Links
---
Pete Campbell - From SERPs to Markup: How to Increase Your Earned Traffic
---
Jackson Rawlings - Tapping into local culture for marketing campaigns
---
Gerald Murphy - SERPs: From keyword to click
---
Razvan Gavrilas - Dominating Organic Search using Cutting-Edge SEO Analysis
---
Hannah Thorpe - Ideation to Impact: How to Create and Sell a Digital Marketing Asset
---
Emma Andrews - Trading channel and departmental data for campaign success
---
David Mihm - Maximizing Your Local Search Presence in 2016+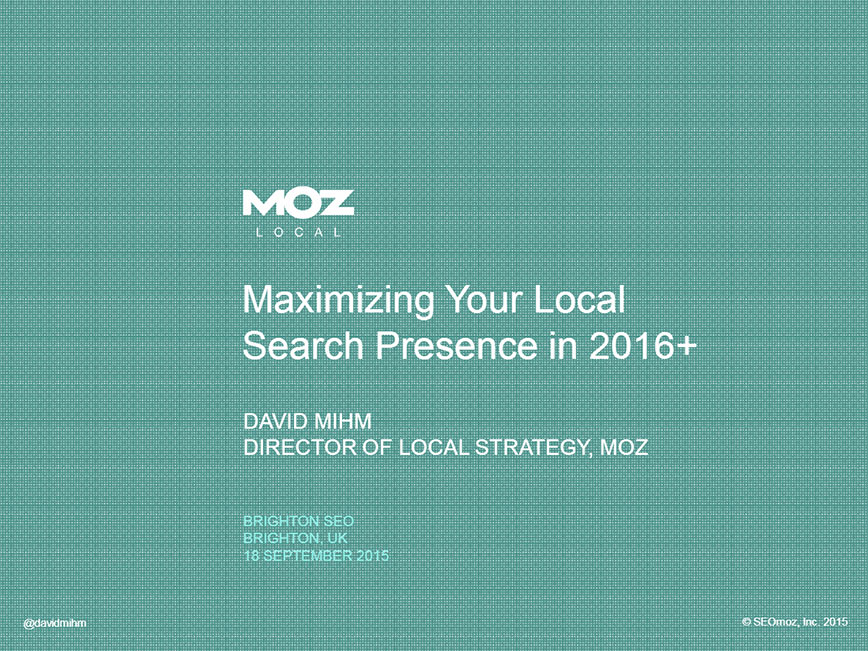 ---
Charlie Williams - Understanding your audience; Agile thinking & our content
---
Chelsea Blacker - 12 Actionable Tips To Become The Content Authority In Your Niche
---
Tanya Korobka - How to master digital PR
---
Steve Linney - Why the digital skills gap is good for you
---
Jon Earnshaw - Is your content working better for someone else?
---
Emily Hill - Mining Google Analytics for Content Ideas
---
Rebecca Lee - A Supercharged Approach To PR SEO Success
---
Stacey MacNaught - Your Content is Awesome – Now What?
---
Emily Mace - Internationalisation: The Good, The Bad and The Ugly
---
Pippa Moyle - Merging Your Business Into The 24 Hour News Cycle
---
Tara West - Custom Audiences: The Crown Jewel of Facebook Advertising
---
Alex Moss - Tools & Tips to Improve Internal Productivity & Efficiency
---
Chris Green - Cannibal Content - Stop Your Website From Eating Itself
David Whatley - A physical address is a strategic asset in search! How to leverage an address in search
---
Tomas Vaitulevicius - Large Site SEO Architecture
---
Gianpaolo Lorusso - Is your AdWords account really optimized?
---
Simon Penson - Top SEO Tips For Bloggers
http://www.slideshare.net/simonpenson/top-seo-tips-for-bloggers
---
Yauhen Khutarniuk - Running SEO on shoestring budget
---
Beverley Brown - The source of global content quality
---
Ann Stanley - Benefits of using Marketing Automation Software as part of your SEO and content marketing strategy
---
Prabhat Shah - Optimising Products for Amazon Search
---
Wise words from @davetrott's closing keynote talk at #brightonSEO. pic.twitter.com/I8Ao5E3x7S

— James Bavington (@bavington) September 18, 2015
---
We hope you found this post useful!
You can find the slides from the April 2015 conference here.
Photo in the main image by Nickolass Jensen @ Twitter.