Ecommerce SEO can be one of the most challenging and complex areas of Search Engine Optimisation.
In this guide we will cover everything you need to get started with SEO for your ecommerce site.
What is Ecommerce SEO?
Ecommerce SEO is the process and application of Search Engine Optimisation techniques when applied to ecommerce focused websites and platforms.
Ecommerce SEO campaigns can vary in scope but usually involve the optimisation of ecommerce specific site elements such as product listings, categories, feeds/sitemaps, titles and descriptions; as well as standard SEO processes looking at areas such as technical SEO, content, internal links, and offsite SEO/link building.
Ecommerce SEO as a practice sits under digital marketing and broadly under ecommerce marketing; involving processes designed to generate increased traffic, customers, and ultimately sales for ecommerce operations.
Getting started
Whether you are starting from step one, or being tasked with creating an SEO strategy for an established ecommerce site, getting started with an ecommerce SEO strategy can be a little daunting.
In this guide we are going to try cover as many of the main components of a modern ecommerce SEO strategy as possible.
If you already have an ecommerce site set up in your platform of choice and have decided which products to sell, you can skip the next few sections.
If however you are just getting started - read on for some advice on how to choosing an ecommerce platform for SEO and researching the products you are going to sell.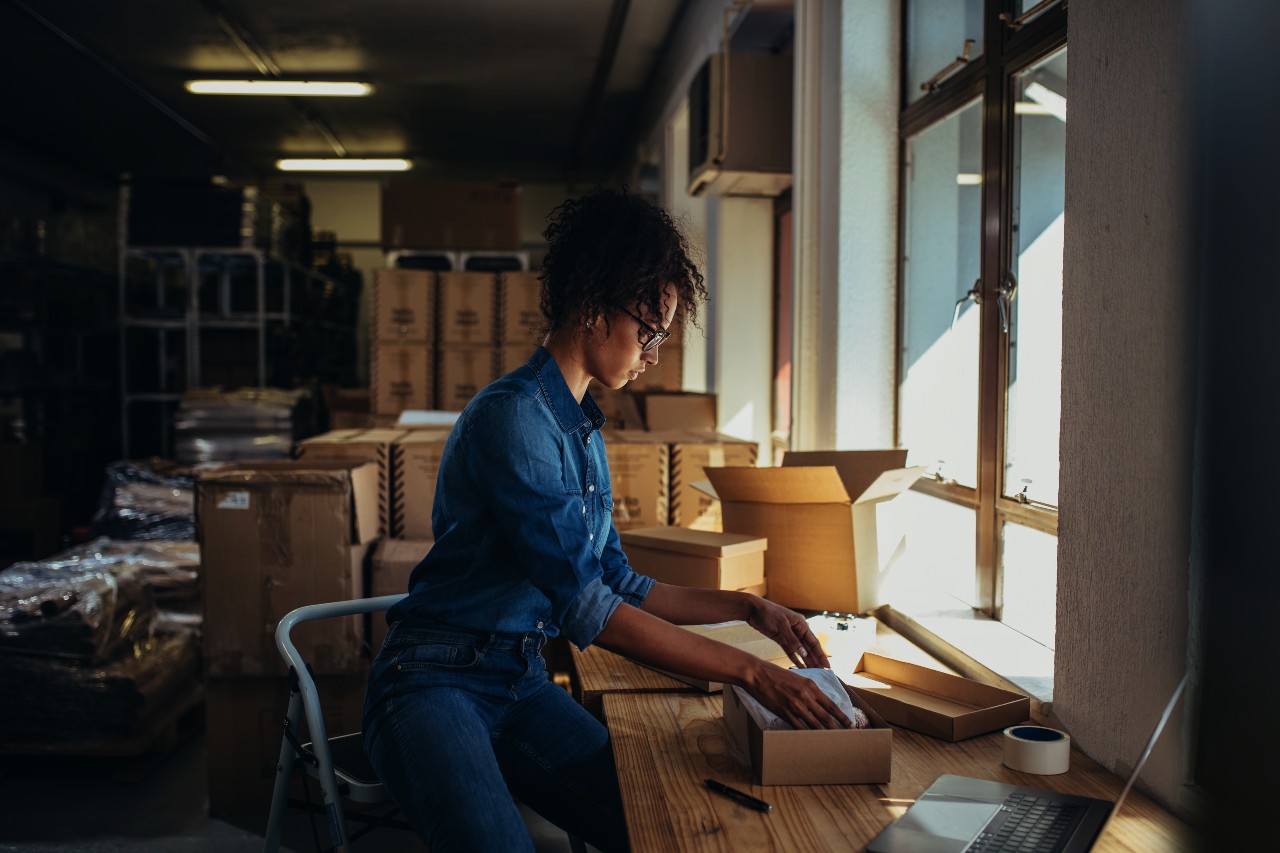 Ecommerce niche, products & store type
You may already have an idea of which niche you want to enter and the products you want to sell.
If not, the first steps in setting up an ecommerce site will often involve decisions and research in the following areas:
Niches & markets to enter
Choosing & sourcing the products to sell
Digital or physical goods
Hold stock, create products on-demand, or dropship
Competitor research
Niches & Markets
What is a 'niche'?
By niche we are talking about the specific product category or categories in which the products you want to sell will be in.
Choosing a niche
Choosing what niche you want to focus may involve something you are interested in, or simply an area where you see a business opportunity.
You can look at other physical retailers or ecommerce sites in the same or similar industries to find out what they are selling and for how much.
Keyword and market research is important here to assess the popularity of different product categories.
What is a market?
In marketing, a market is a group of potential buyers who may be interested in purchasing a product, and have the legal ability, as well as the resources to do so.
Choosing a market
Choosing your target market involves researching your competition, customer base, and any possible opportunities you see across different markets and market-places.
The location of your market can be significant: there may be competition at a global level but lack of competition in local or regional markets.
Ecommerce platforms
Different ecommerce platforms have different features and benefits, as well as limitations and potential drawbacks when it comes to customisation and the ability to optimise a site for SEO.
Hosted vs Self-hosted
One of the first distinctions to make between different ecommerce platforms is between hosted and self-hosted.
Hosted ecommerce platforms such as Shopify or Wix don't require the purchase of web hosting and or involve as much technical work to build or maintain a site.
Hosted ecommerce solutions can be great for smaller operations and startups that don't have technical in-house experience or don't want to invest resources on development and infrastructure.
Self-hosted ecommerce platforms such as Magento or WooCommerce require the provision of web hosting, and will usually involve much more technical work to both build and maintain a site.
Self-hosted sites will often be more powerful in regards to the degree to which they can be customised - something which can be very important when it comes to optimising a site for SEO.
Choosing an ecommerce platform
Choosing the right ecommerce platform will involve evaluating a range of services to find the best platform across a range of different commercial and business needs that will relatively be unique to your specific requirements.
SEO is just one part of the equation, so depending on how SEO fits into your marketing mix it may not be the first consideration when it comes to choosing an ecommerce platform and building a site.
Often different ecommerce platforms will have some standard SEO functionality, and there may be add-on plugins or modules for SEO and sub-functionalities that you can use to supplement where the barebones setup leaves anything missing.
At a most basic level almost all platforms will require users to set up an XML sitemap for example.
Often different platforms will have trial functionality where it may be possible to test out SEO features, and research can be conducted on how many different SEO plugins/modules are available on the market - considering their functionality, support, and potential reliability.
Best ecommerce platform for SEO?
Best ecommerce platforms for small sites
For small ecommerce sites Shopify (paid - hosted) or WooCommerce (free - self hosted) are both good options.
Shopify is not as freely customisable as WooCommerce, but there are so many different features and add-ons available that you can probably get most of the things running which you would want as a smaller store.
WooCommerce has a greater degree of flexibility, but depending on how complex you want to make your store you may need to get some development help - as well as having to arrange your web hosting.
Best ecommerce platforms for larger sites
For larger operations with significant developer resources most mature ecommerce platforms can be customised to the degree to which SEO changes can be made effectively.
Custom built and headless platforms can also be best practice at larger scale as the amount of business functions a site needs to perform increases.
For larger or enterprise businesses that don't want to invest as highly in infrastructure or developer resources Shopify Plus or BigCommerce are two potential options.
Ecommerce SEO Strategy
Creating an effective SEO strategy for ecommerce site, like any good SEO strategy, involves working back from what you want to achieve and then creating an effective plan to achieve your goals.
For most ecommerce operations the primary goals are likely to be generating an increased amount of relevant organic traffic via additional and improved keyword rankings; leading to increased sales, customers, returning customers, and ultimately: profit.
In the below guides we will cover some of the main elements involved in building an SEO strategy around those goals.
At the most basic level ecommerce SEO strategies will usually involve:
Onsite SEO & technical auditing
Product page optimisation
Product category optimisation
Navigation optimisation
Site speed
Core Web Vitals
For larger sites international SEO, involving multiple site, location, language, and Hreflang implementations are likely be key components of an SEO strategy.
Keyword research
Keyword research is integral to ecommerce SEO at multiple levels.
Keyword research can be used to optimise content and meta information, to acquire more relevant traffic and customers.
Some of the areas of an ecommerce store which can be optimised include:
Product pages
Product categories
Navigation & internal linking
URLs, Tags, filters & facets
Homepage
Title & meta descriptions
Blog and content marketing
Keyword research can also be used as part of the process of deciding how to structure a site and create search engine friendly product category implementations.
Product Page SEO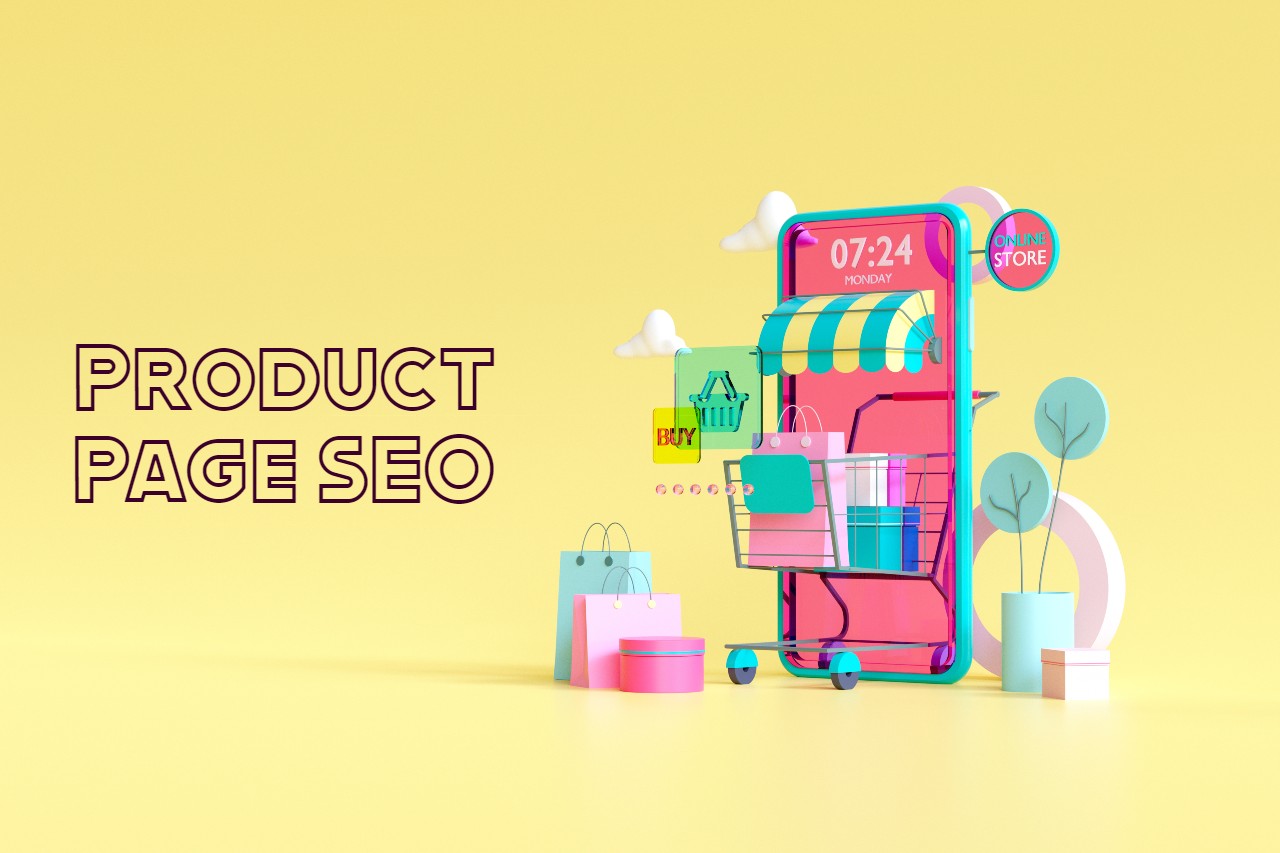 Product pages are one of the most important components of an ecommerce site.
For small ecommerce operations with a very small number of products, it is possible to look at individual product listings and work to optimise them for best performance.
For medium and above sized websites with any significant number of products, optimising product page templates and page features can yield results at scale, across a site.
Product pages can be optimised in areas such as:
Title and meta description
Product description & supplementary text
Headings
Product images & image attributes
Internal linking & related products, product options
Speed and Core Web Vitals
Below is a screenshot of product page on the johnlewis.com website.

Some of the features of this product page include:
Product heading including brand name and generic product type
Multiple product images
Product description & specification
Customer reviews
'Shop the look' and 'Style it with' related items
'Customers also bought' related items
Product Structured Data
Use product structured data to add information to your product pages that Google and other search engines can use to create rich snippets.

There are two types of pages that can use product structured data:
Product pages that describe a single product
Shopping aggregator pages that lists a single product, along with information about different sellers offering that product
Using product structured data can help your product pages stand out in the search results, generating extra traffic and sales.
You can test your product structured data using Google's Rich Results testing tool.
Product Category SEO
Product categories are often an essential component of ecommerce sites.
Improving the SEO performance and usability of product category pages can be a win for users as well as bringing in additional relevant traffic from search engines.
Areas to look at for product category pages as part of an ecommerce SEO audit include:
Title and meta description
Category text and headings
Internal linking to products, other categories and sub-categories
Product images & image attributes
Pagination
Canonicalisation
Speed and Core Web Vitals
Product filtering and faceted navigation
Navigation allows site users and search engine bots to move between the different pages, products and categories on your site.
Good ecommerce navigation can improve the user experience for users, and the priority you give specific products and categories can be a signal to both users and search engines as to which are the most important.
Look at navigation elements such as:
Mobile menu
Main menu / mega menu (if you have one)
Filters & faceted navigation
Homepage navigation
Onsite search
Related categories, sub categories and products
Navigation can be audited for product/category priority and internal linking, and links should be closely audited to ensure they use actual <a> hyperlinks and not buttons or JavaScript based linking.
Check out our full guide to ecommerce navigation SEO, which includes best practice and examples of good navigation.
Onsite Search

Optimising onsite search on ecommerce sites can yield increased product views and sales.
Auditing and improving onsite search for usability, aiming for users to get to browse, find and select products with as minimum effort (and clicks/taps) as possible is ideal.
On a technical note: for search engines, it is important to block bots from search results in the majority of situations - for the simple reason that search engines don't want to index other search results pages - and it can caused duplicate content issues.
Site Speed
Website speed and performance for ecommerce sites is important for SEO and also has been shown in studies to have a direct correlation with page views and sales for ecommerce stores.
As a baseline it is important to test all the different main areas of your website: your homepage, product pages, category pages and the checkout process to make sure it all runs quickly.
Core Web Vitals
Core Web Vitals are a set of user experience signals Google use to measure performance, which is now baked directly in Google's mobile and desktop search algorithms as confirmed ranking factor.
Improving the Core Web Vitals of an ecommerce site can have a direct impact on search rankings as well as improving user experience and ultimately traffic/sales.
In extensive testing and research we have conducted, Core Web Vitals is an area that many ecommerce sites really struggle with for various reasons.
In the below video you can see a screen recording taken of the Currys.co.uk website, on a top-end desktop computer using an unthrottled 70mbs broadband connection.
The site suffers from severe Cumulative Layout Shift (CLS) issues that can make browsing the site an unpleasant experience.
Benchmarking
The first step is to assess your site and competitor sites to see where you are.
One way of benchmarking your site initially is to create CrUX Data Studio reports.
If you find that your site performs significantly worse than your competitors, then you can know for sure you need to put in place measures to rebalance this.
Testing
The next step is testing your Core Web Vitals - looking at the site homepage, categories, products, and any other key templates.
Do not just check the homepage. Check every type of template on your site, starting the ones with the highest traffic.
Do not just test locally from your own modern desktop computer (which just so happens to be on a high speed broadband connection).
Conduct tests using a range of different applications, making sure to include mobile tests and tests which throttle performance to simulate lower and mid-end internet connections and devices.
Monitoring
It is recommended to monitor your Core Web Vitals on an ongoing basis.
Monitoring allows you to spot any negative fluctuations in your Core Web Vitals and generally allows you to keep tabs on your scores, so you can see the impact of the improvement works you are putting in place.
You can monitor Core Web Vitals with paid tools such as DebugBear, or just set up a CRuX CWV report.
Ecommerce SEO FAQs
We have tried to answer some of the most common ecommerce SEO frequently asked questions below, that are not answered directly above.
How do ecommerce sites do SEO?
Ecommerce SEO can vary in approach depending the size and market. Some ecommerce sites do all their SEO work inhouse, others outsource to an ecommerce SEO agency or consultant. For smaller sites with no budget there are often SEO plugins available to extend the existing functionality of your ecommerce platform.
Which is the best ecommerce SEO plugin?
The best SEO plugin can vary a lot for each ecommerce platform, and unfortunately many can be unreliable and unsupported. If possible make sure to find the plugin that seems to offer the features you need and ensure there is reliable and ongoing support available.