WordPress SEO plugin specialist Yoast have this month launched a dedicated SEO app for Shopify site owners who want to improve ecommerce SEO performance.
The Yoast SEO Shopify app has reportedly been in the works for quite a long-time, with Yoast announcing details and pricing on 4th January 2022 - in time for the official launch a few weeks later on the 18th of this month.
Unlike the well-known Yoast SEO WordPress plugin which works on a freemium model, the Yoast SEO Shopify app requires users to pay a monthly subscription fee - currently set at $19 per month (previously $29 p/m).
On the app store listing page, the sales copy states that Yoast SEO for Shopify 'takes care of all the technical aspects of SEO' allowing you to 'outrank your competition'.
This article will go into a little detail on the history of Yoast SEO, the features of Yoast SEO for Shopify, and most importantly: if the add-on is actually worth paying a monthly fee for.
What is Yoast SEO?
Yoast SEO was founded by Joost de Valk in 2010, with the company launching its first plugin for WordPress in the same year named 'WordPress SEO' (now Yoast SEO).
As the name suggests, Yoast SEO is a WordPress plugin designed to help website owners with Search Engine Optimisation (SEO).
The Yoast SEO plugin is highly popular among WordPress users, installed on approximately 9.8 million websites worldwide according to BuiltWith data.
This means at the time of writing Yoast SEO is installed on 32.3% - just short of one third - of all WordPress installations currently live on the web.
Yoast SEO is also the largest SEO plugin in terms of size and features, leaving some SEO professionals to describe the plugin as somewhat bloated for the job it needs to do - especially for people who are just using it to set meta tags and other basic functions.
Yoast SEO can cause issues in the SEO industry, with some site owners mistakenly thinking that simply installing the Yoast SEO plugin on their site is all that needs to be done for SEO, which is almost certainly not the case in the vast majority of situations.
Yoast SEO has however proven to be a safe and reliable plugin for the most part, with only a very small number of security incidents and bugs quickly resolved over the years.
Probably the most serious incident in the recent past saw a bug in the Yoast SEO plugin which caused a large number of websites to lose organic (SEO) traffic due to an issue related to media attachments.
Why is the new Yoast SEO Plugin a big deal?
Starting and growing an online store can be hard work.
This is especially true for smaller ecommerce site owners, as well as for ecommerce and marketing managers at SMEs without a big marketing budgets, who may not have the financial resources required to pay the cost of hiring a professional ecommerce SEO consultant.
One of the hardest parts of ecommerce is simply getting people onto your website to see your products, which is where SEO - and specifically ecommerce SEO comes in.
The Yoast SEO app for Shopify can potentially help make this challenge easier to overcome, providing a set of basic SEO tools for Shopify users.
As the most popular WordPress SEO plugin used on millions of sites, Yoast SEO has a good reputation among the general website building public - which means for many people the Yoast brand-name and reputation alone will be enough for them to consider investing in the add-on and paying the relatively low monthly subscription cost.
Let's explore the main features of the app below.
Yoast SEO for Shopify features
Rich Snippets - stand out in search results
More than 1.7 million merchants leverage Shopify to sell their products. Of course, standing out in such fierce competition isn't a piece of cake. But, Yoast SEO can help you do so.
Yoast SEO helps you to add structured data to your site, which can result in rich snippets shown in Google.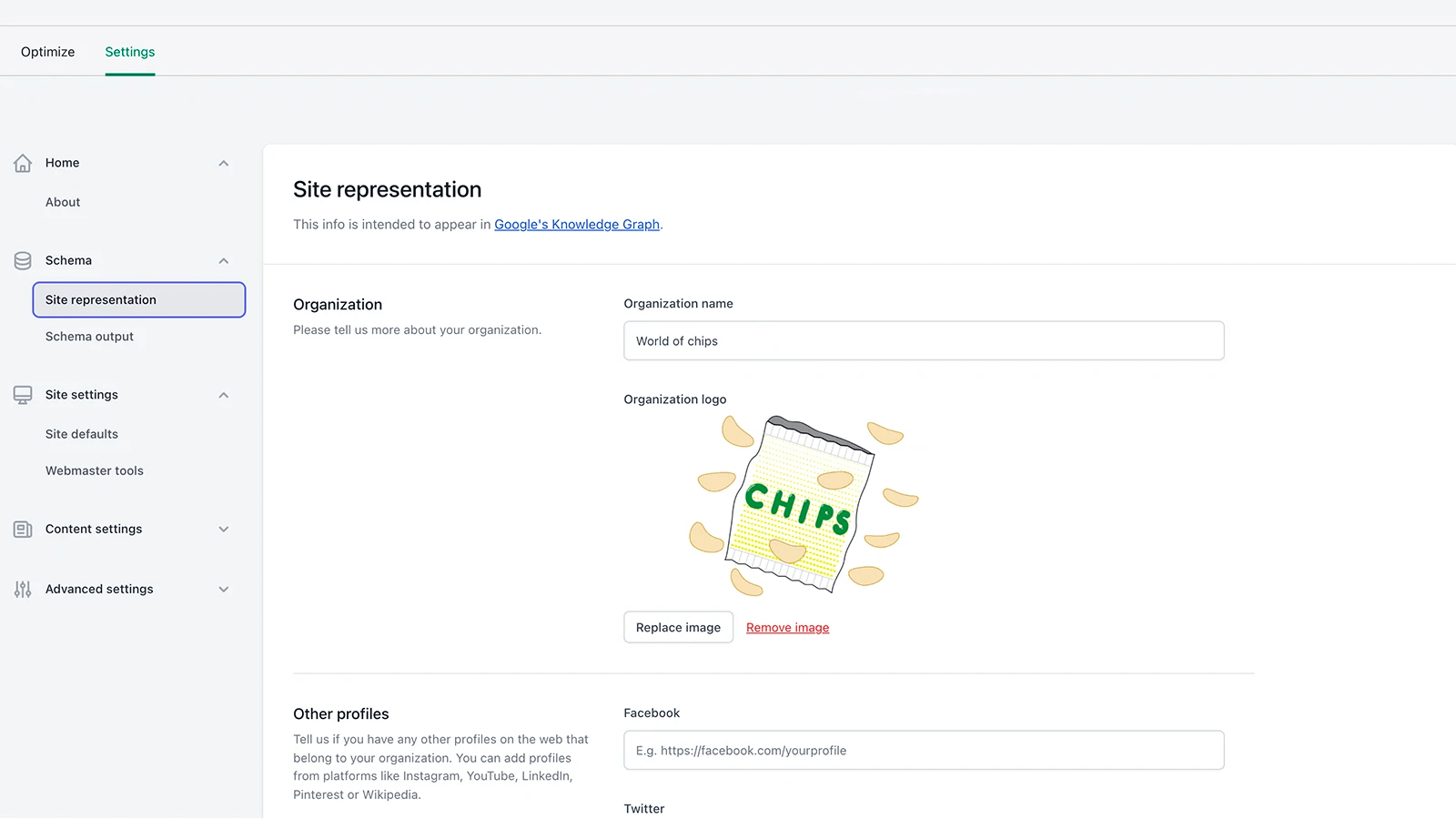 Not just this, if you're selling products via social media, Yoast SEO automatically optimises the product to look best on social media.
Content keyword optimisation
One of the important ranking factors for Google is high-quality content. But what is high-quality content?
In short, high-quality content is content that is readable, original and optimized for search engines and users.
The Yoast SEO for Shopify app provides users with real-time help from the SEO and readability analysis to create high-quality product pages, blogs, and collections that rank in the search results.
The plugin shows how and where your content can be improved.
Yoast SEO provides a set of basic tools to help you try to optimise and rank your content more effectively.
For SEOs these tools are incredibly simple and not very powerful, but for copywriters and normal users they may be useful.
You can put in a keyword phrase for which you'd like to rank, as shown below.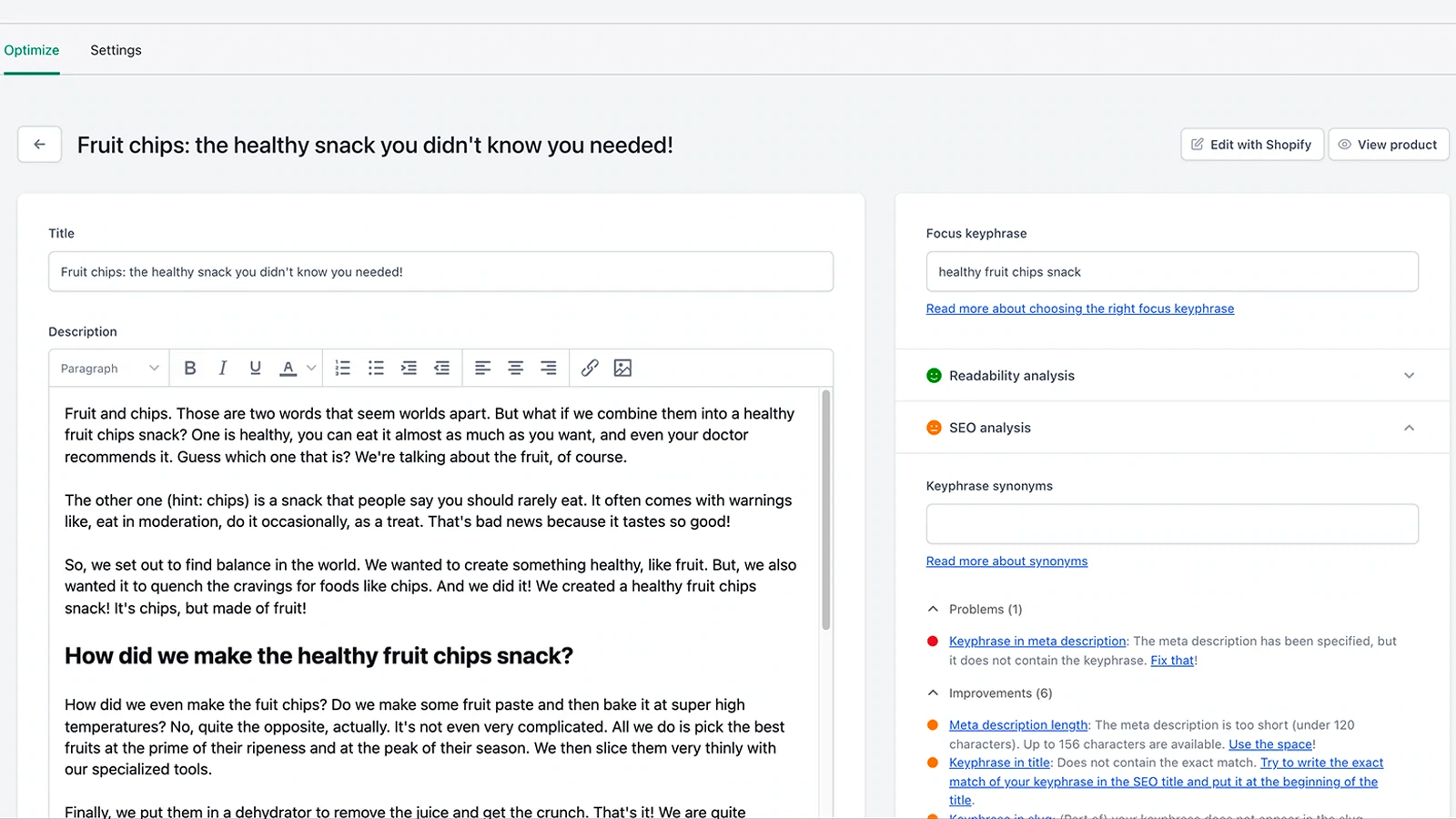 The tool will then run an analysis of the keyword density and whether the keyword is properly distributed across your text.
The idea to leverage keyword optimisation for all the product descriptions you write on product pages to rank better on search engines.
Improve product page readability
Readability plays a crucial role in engaging your visitors.
According to studies as many as 54% of adults in the US have a hard time reading seventh-grade or above English (as per Flesch-Kincaid score).
The plugin provides a set of recommendations to improve usability for the content on the page.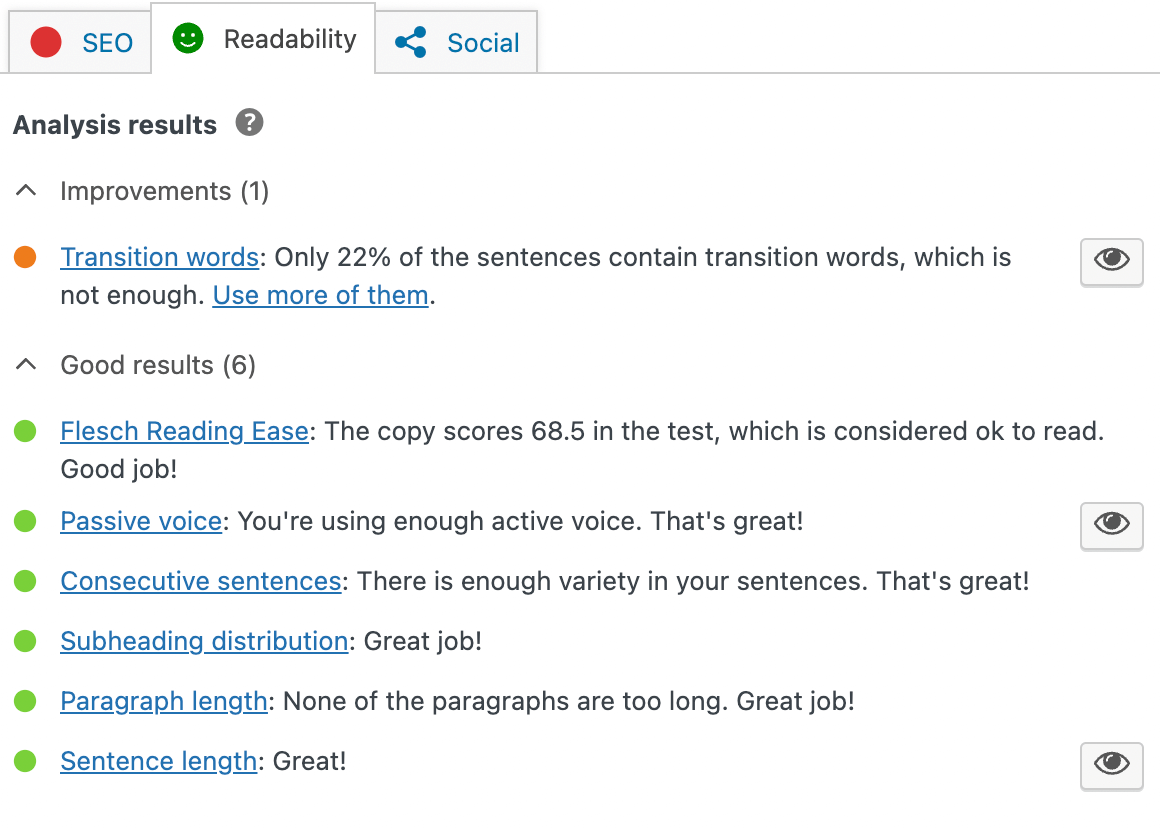 Bonus
Paying for a Yoast SEO subscription in Shopify also gets you full access to the Yoast SEO academy courses so you can learn more about SEO.
Is Yoast SEO for Shopify worth paying for?
If you are a small ecommerce operation there would certainly be some benefits to using the Yoast SEO app.
Whether or not it is worth paying $30 a month is really up to your budget.
It is possible that it could help you sell a few extra products a month and potentially pay for itself.
However there are a bunch of other SEO apps for Shopify available in the marketplace, which you may want to check out first if you have time to do the research.
If you just want to go with a solid SEO plugin from a trusted name, Yoast ticks the boxes and will probably work just fine for you.
Is Yoast SEO for Shopify all you need to optimise an ecommerce store for SEO?
No. The Yoast SEO app for Shopify is a great start, and will be fine for smaller ecommerce sites.
However it is certainly not a replacement for hiring or working with a talented ecommerce SEO specialist.
There are many levels of ecommerce SEO that aren't covered by the app.
You can find multiple examples of this in the ecommerce SEO guide we have put together here.
Update: Price updated (1st April 2022).
Article checked for accuracy, edited by, and includes contributions from Colin McDermott.