In April the team at Jetpack redesigned the settings user interface, and in our opinion it has made turning off some features more than a little confusing.
Explained in this blog post, following feedback the Jetpack team decided to change the design of the Jetpack settings interface.
The unfortunate upshot of this is that now various settings have been moved to an area you would never normally think to find them. You would not be blamed if you spent 10 minutes searching through the settings - just to conclude that it is actually now impossible to remove features such as WordPress.com stats, which is responsible for the g.gif tracking pixel hosted on pixel.wp.com that can add as much as half a second to your load-time.
Well good news, it is still possible to remove these features - you just have to navigate to the new and slightly bizarre choice of location: the Jetpack debug page.
To jump straight to the page - add /wp-admin/admin.php?page=jetpack_modules to the end of your domain name, ie www.domain.com/wp-admin/admin.php?page=jetpack_modules.
Alternatively you can navigate to it by following this - completely logical and not at all confusing - path: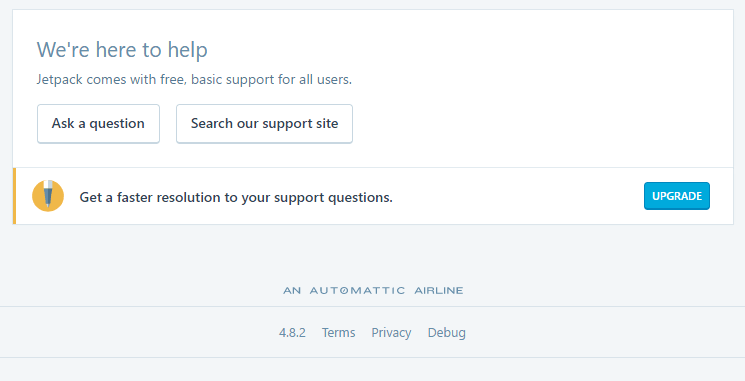 Go to the Jetpack menu via your dashboard
Scroll to the bottom of the page
Click 'Debug'
At the bottom of this page, click 'Access the full list of Jetpack modules available on your site'
From there you can turn off the WordPress.com stats module by hovering over 'Site stats' and clicking deactivate, or by checking the tick box next to it and then selecting 'Deactivate' from the drop down at the top of the page and hitting the 'Apply' button.
Unless you are using them, there might be various other modules you can remove. Assuming you know what you are doing consider having a browse through the list and deactivate any modules you are unlikely to ever use.
Custom CSS is one module it is definitely a good idea to remove if you are not planning to use it, the extra CSS file can delay load time slightly.
Search Candy provide WordPress design, development and maintenance services - click here to find out how we can help.