Website security & DDoS protection service provider Sucuri have launched a new free global website performance testing tool.
The Global Website Performance Tester tool simultaneously checks a domain or sub-domain from 13 locations, providing a quick snapshot of load times around the world.
The three metrics tested are Connection time (how quickly it takes to establish a TCP connection), Time To First Byte (TTFB) (how quick the browser receives the first bytes of data), and Total Load Time (how long it takes for the page to be loaded).
Unlike WebPageTest and GTMetrix, the tool does not provide a detailed breakdown of individual website loading, nor tailored recommendations to improve load times.
This tool does however provide an almost instant global snapshot of a few key load time metrics, enabling users to quickly see how a site performs from different regions.
Websites that don't used geo-based caching or CDN will have a slower load time globally.
If you are running a small website with a single country audience such as the UK, it probably won't be a major problem for you if your site is loading slower on the other side of the world.
However if you do have a fairly global audience then this tool can help show how important it is to have a global infrastructure/CDN.
In addition to this, not all CDNs are equal, and some can have stronger provisions in certain regions.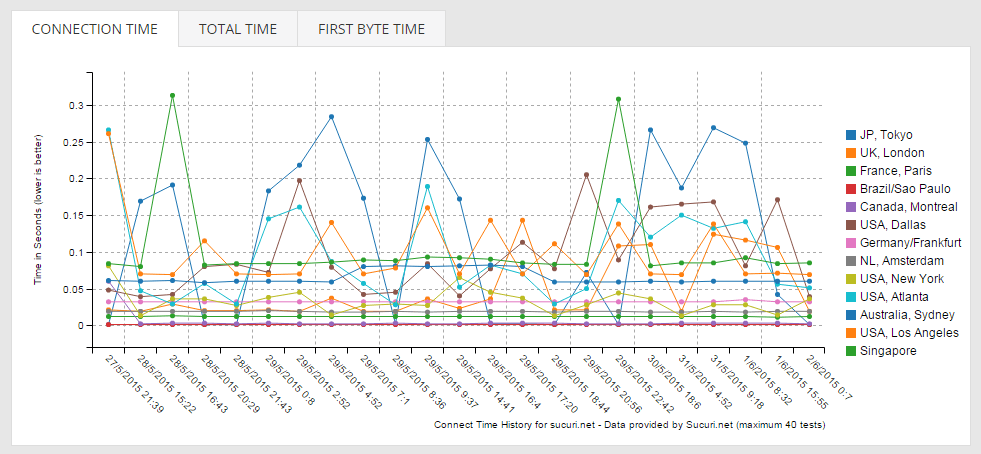 As well as individual tests, Sucuri's global testing tool keeps records of performance over time.
Website speed is a confirmed ranking factor in Google, and a fast loading website is better for users. Numerous studies have shown that a faster loading website leads to higher page views, and higher revenue.
The tool is still in beta, but works well from the testing we did.
You can find the Sucuri Global Website Performance Tester at the following URL:
Main image by Loïc Lagarde @ Flickr.