It is been a busy week for those with an interest in recruitment SEO - Google have announced two significant new updates to their AI powered job service Google Jobs.
On Tuesday in a Search Central blogpost Google released details on a new technical feature allowing recruitment sites to indicate if they allow direct applications, and also provided information on additional new editorial guidelines for job sites.
Editorial Content Policy
Google are launching a new editorial content policy for Google Jobs, scheduled to be implemented in October this year.
The upcoming policy will include requirements such as:
Obstructive text and images
Excessive and distractive ads
Content that doesn't add any value to the job listing
Follow basic grammar rules
Avoid unnecessary capitalisation
Direct Apply - New 'directApply' property for job listings
The new directApply property is an optional feature allowing recruitment sites to specify to Google that users can apply directly on the applicable page.
The aim is to make it clearer to users whether they can actually apply directly on a site or not, avoiding the dreaded double application process that many sites currently use - whereby a user would fill in their details once whilst applying - only to be asked to be forwarded to another location and asked to fill in the very same details again on the next site.
What is a direct apply experience?
A direct apply application process should be 'short and simple' without any 'unnecessary intermediate steps'.
This includes any repeated action such as having to sign or log in more than once which would indicate that a website does not offer a direct apply experience.
Google have created an illustration that attempts to illustrate this process and show the shorter, faster, and ultimately more preferable route for job applicants.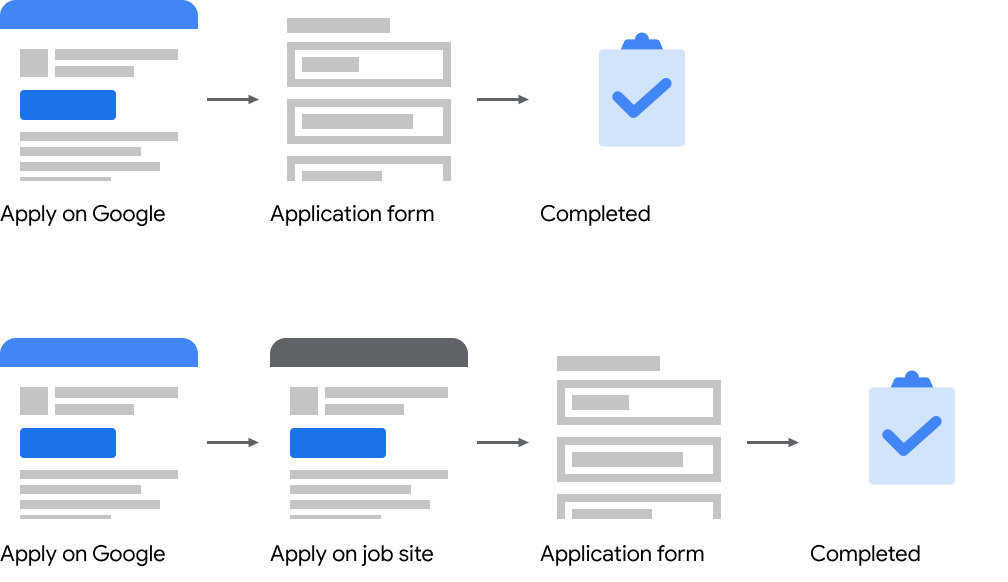 Above - a short direct apply experience, vs an extended non-direct apply application process.
If the user has to click apply, complete an application form, sign in or log in more than once in the application journey, it means that you aren't offering a direct apply experience.

Google Developer docs
How to improve trust
Google also listed some issues based on research they have conducted that job sites should attempt to avoid in order to improve candidate trust. The expanded list is in the blog post but I have summarised it below:
Verify that there are no scammy or spammy job posts on your site
Ensure a good user experience
Remove expired job posts
Make sure that the job's posting date is genuine
Don't include wrong or misleading information in the job post or the markup
Hat tip to Search Engine Roundtable.
Find out more about recruitment SEO here, or check out our guide to Google Jobs.