Long-standing photo sharing site Fotolog has quietly shut-down and been turned into an SEO spam blog.
Before Instagram and it's older, nerdier cousin Flickr were brought into existence as the defacto photo sharing sites for generations of netizens - there existed a rather popular website called Fotolog.
Launched in 2002, Fotolog was a community based website where general users, photographers and artists came together to share and comment on images.
At its peak the site was in the top 20 most popular sites in the world according to Alexa, with over 20 million unique users per month.
Mirroring other long-standing web properties, over the last 18 years the site grew, then waned in popularity - changing hands multiple times as the site was sold to different investment and media companies.
And thus it came to be that in February this year, out-of-the-blue we were sent an email offering us the option to purchase a sponsored guest blog post on Fotolog.com - the primary domain that the site had used for over a decade (following the switch from Fotolog.net).
On checking the site it was clear that the domain was no longer a photo sharing site, but a reasonably well put together spam blog.
From looking at the domain 'Whois' information - it appears the domain did not technically speaking expire - so was most likely sold privately or in a domain auction.
Fotolog App
Users on Google Play are also reporting that the relatively newly launched Fotolog Google Play app also redirects to the new spam blog.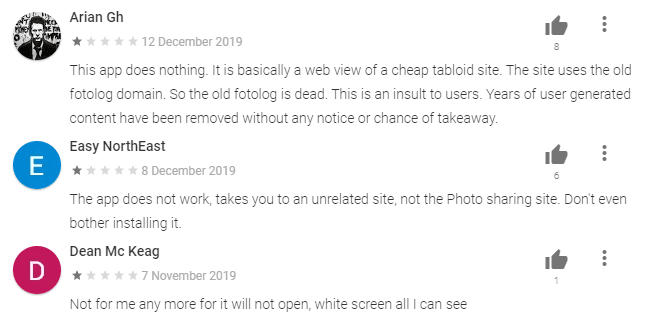 Just like Instagram does now - Fotolog held records of many important and emotional memories for its users. I personally used the site just a few years ago to find images uploaded decades earlier by an artist friend who passed away.
If you have any memories of Fotolog feel free to post them below in the comments.