Google have celebrated Edward Lear's 200th birthday with a Google Doodle on their homepage.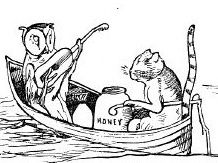 Edward Lear (12th May 1812 – 29th January 1888) was an English artist, writer and poet.
One of his most famous poems - which it looks like the Google Doodle is based on - was 'The Owl and the Pussy Cat', which I can distinctly remember reading as a child.
Lear's poems and limericks contain a hugely creative use of the English language.
His "nonsense" was creative to the point of making up words and phrases, such as the 'runcible spoon' in the closing lines of the Owl and the Pussy Cat.
Lear was born in Holloway, England, the 21st child of Ann and Jeremiah Lear.
Enjoy: